The sprawling, wide-open spaces and charming small towns of rural Oxford County are beautiful any time of year — but especially now, in late autumn and early winter.
As candy-red maple leaves light up the countryside and unique retail shops prepare for the first dusting of snow, they're also ready to offer the ideal holiday shopping experience.
Whether you shop locally in-person or online, Oxford businesses have everything you're looking for — and lots more to discover.
"I think charm is the best word to describe the shopping experience," says Crystal van Roekel, business support consultant at the Rural Oxford Economic Development Corporation.
"These smaller businesses curate your experience — and the products they're selling, they would give to their own family. I think that says a lot."
Why not make your holiday shopping experience a fun, relaxing, rural road trip?
Here are some ideas to get you started.
A craftsperson's paradise
If there's a woodworker on your list, visit Embro, Thamesford and Kintore. Start the day with a fresh cup of coffee — and beans to go — from Kintore Coffee in Embro.
Then visit Workshop Supply across town for hobby supplies — maybe a birdhouse kit, or a crokinole board — and over to Kintore Custom Hardwoods to buy a hand-made chopping board, charcuterie board, or lumber for your next project.
The Country Tool Shed in Thamesford has tools for any job, and you can pick up party-ready dishes at the Village Deli that simplify the holiday hosting experience.
Still more shopping to do? Travel 10 minutes to downtown Ingersoll.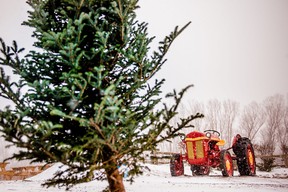 Pamper yourself and delight the foodie in your life
Holidays are a chance to indulge — and rural Norwich is the perfect place to start. Visit Wild Comfort Body Care for natural soaps and lotions that pamper the skin. Then check out Gunn's Hill Artisan Cheese, Greener Pastures Eco Farm and Oxford Honey for items that delight the foodie on your list.Grab a gift certificate from Florae Farms for your favourite gardener, then visit downtown Norwich for women's attire, gift shops and baked goods. You'll find lots of treats and stocking stuffers at the Norwich Bakery, and treasure hunters will love Liquidation City. For the over-the-top holiday enthusiast, get all the best baking ingredients and unique festive décor at Coyle's Country Store.While you're in town, grab a bite to eat at Jordan's Divine Dish or The Village Restaurant.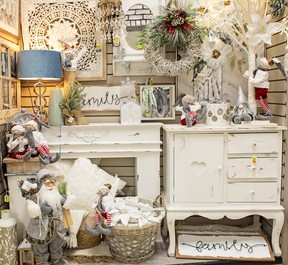 Online fashion retailers
If there's a fashion-lover on your list, consider shopping locally online with an Oxford boutique. The cozy cottons from local designers Thames River Clothing and Bear and Fox Apparel are available at the click of a mouse. Fashionistas will love On Trend in Norwich — be sure to check out the seen-on Dragon's Den Ponyback Hat, the perfect chapeau for people with ponytails.
From Tavistock, you'll find unique baseball hat designs at Noble North, and MIO has women's jewellery, accessories and adorable children's swimsuits.
Treasure hunters can also visit the online hub of Morrows in Drumbo, and so much more is available in-store. See a full list of rural online shops at Tourism Oxford.
All this, and we haven't even talked about weekend walks with alpacas, flying in an antique Harvard airplane, or live theatre at Walters Music Venue. Book an in-season adventure or a gift card for a memory-making holiday gift.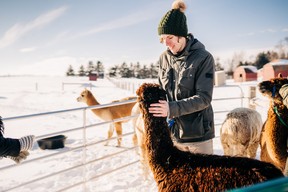 There's so much to see and experience in rural Oxford County this holiday season, you'll want to return several times. "Let's not focus on the stress of the season," says van Roekel. "Let's make it an experience to share with other people, and still fulfill your shopping needs."
For more great ideas about holiday shopping in Oxford County, visit tourismoxford.ca/holidays .